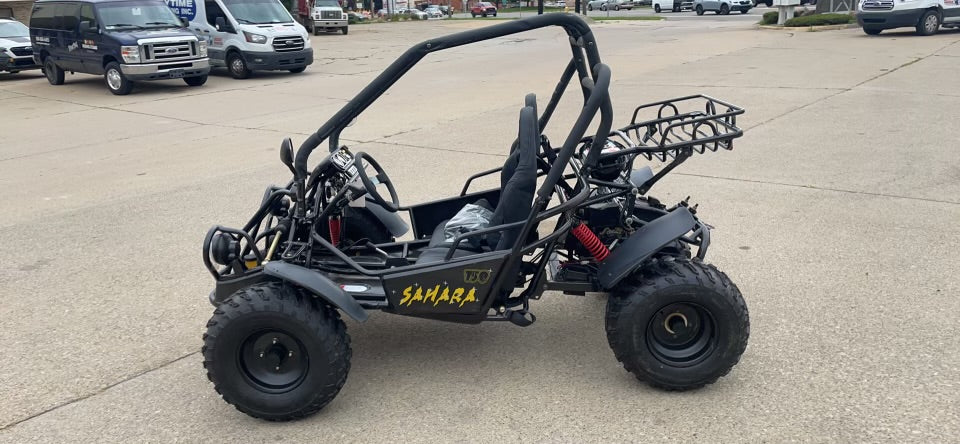 150cc Sahara UTV / Go Kart
Original price
$2,773.00
-
Original price
$2,899.00
Free One Year Engine! Limited Time Offer!
 Off-Road Legal:
US EPA (Environmental Protection Agency) APPROVED
Unique & Genuine Factory VIN Number
NO CARB (This Unit is Legal For Sale In All States Other Than California)
For California customer please check our California Legal Section for CA DMV registerable bikes

Free Notification Before Delivery ($15 Value. Other companies may charge an additional $15 for this service!)

Free Technical Support Do not hesitate to call us if you need help with your product. We have a dedicated service department that is created just for that. We want to make sure you are completely satisfied with your vehicle. Call us @ 586-834-8639 for tech support.

Free 3 Month Parts Warranty ($49 Value. Other companies may charge an additional $49 for this service!)
Free No Additional Fee For Residential Delivery Notification ($49 Value. Other companies may charge additional $75 for this service!)

Free MCO/MSO Registration Documents ($55 Value. Other companies may charge additional $55 for this service! Yes, it does take some time and create those paper work and send it to you. However, the paper work doesn't come with your bike, you need to submit MCO Request after receiving bike. We offer those documents to you totally free! As soon as you submit a MSO Request to us, our MSO staff will mail those documents to you promptly.)
CONFIGURE :
Colors available :
Blue ,black ,red , yellow
ENGINE INFO :
Max horsepowe :
8.1/7000 HP/rpm 
Max torque :
9.8/5000 N.m/rpm
Max speed :
40 mph
Climbing ability :
≥30°
Ignition :
C.D.I
Starting system :
Electric
Battery :
12V7A
Carburetor brand :
PD24J
Engine oil :
SAE15W/40SF
CHASSIS ETC :
Driving wheel :
Rear wheel drive
Tires,front/rear :
21×7-10/22×10-10
Fuel capacity/type :
2.5gal
Weight,G.W./N.W :
552/485lbs
Max load :
330lbs
DIMENSIONS :
Wheelbase :
76.7inch
 L*W*H :
88×60.6x59.5 inch
Height to seat :
17inch
Min ground clearance :
6.5inch